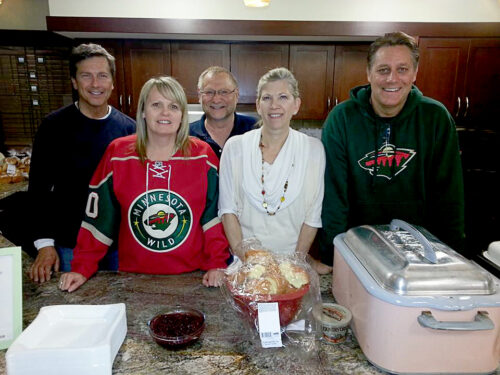 The Dakota County/Eagan Office Volunteered at Ronald McDonald Houses' Cooks for Kids Program, March – June 2014
Coldwell Banker Burnet offices regularly volunteer their time for the Ronald McDonald Houses' Cooks for Kids program. They cooked and served meals for families staying at the House. It's one less worry families have during their stay. That make 4 months in a row the Dakota Office has cooked dinner for the kids. We have another group forming to cook in July too!
Thank you to our Dakota County/Eagan office for serving dinners at Ronald McDonald / Gillett Children's Medical Center in March, April and May.
Team 1: Elaine Karel, LaRon Greene, Gerri Migletz, Donna Nesbitt, Amber Nesbitt
Team 2: Erik Kolz, Jackie Heinis, Svein Husevold, Kathy Ghilani, Troy Friedges
Team 3: Bob Budin, Lori McCahey, Linda Rogers, Patti Kellum, Jeff Vandercook
Team 4: Joan Brandes, Mike La Velle, Jeff Vandercook, Scott Seeley, Dave Rech